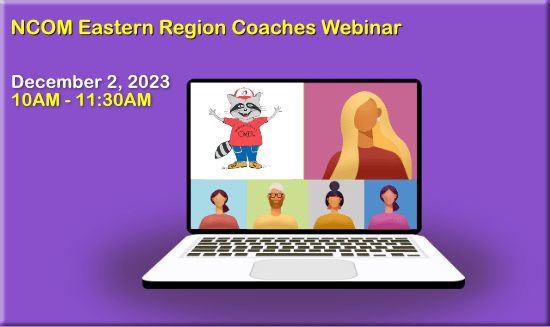 NCOM Eastern Region Coaches Webinar
Saturday December 2
10:00AM – 11:30AM
Questions about tournament logistics?
Want to get insight into coaching best practices?
Need some guidance or assistance with any issues related to OotM?
Coaches – please join our very own Eastern Region Director, Randy Burton, and other NCOME Board members for a Q&A tailored specifically to your needs. This virtual meeting is open to any Eastern Region coach and all questions are welcome. No outside assistance will be given, of course, but you will be pointed to resources that can help you and your team.
Topic: NCOM Eastern Region – Coaches Webinar
Time: Dec 2, 2023 10:00 AM Eastern Time (US and Canada)
Join the Webinar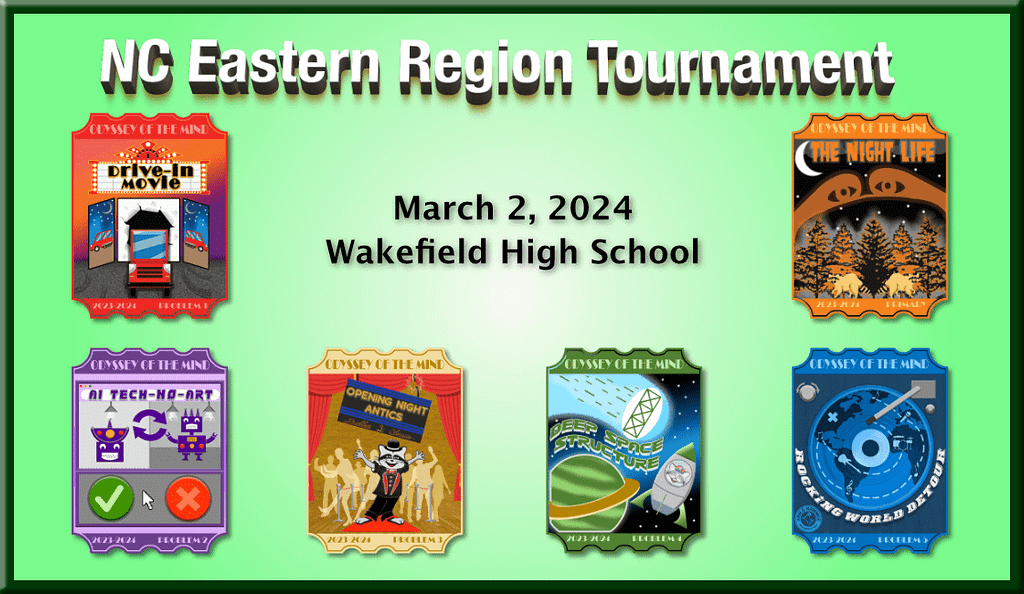 Start Registration
NCOM Eastern Region Tournament registration is open.
Registration is $160/team, but we offer an Early Bird discounted fee of $115 if you are registered on or before December 24, 2023. The registration fee for Primary teams is $25.

The final deadline for registering is January 15, 2024.
To successfully complete the registration process, you will need the following information:
Your membership name and number as they appear on your membership records
The email address to which you want any tournament information sent. Check this address regularly!
Your phone number
Names, addresses, phone numbers, and email addresses of additional coaches
Each team member's name, and grade as of May 1, 2024
The School each team member is attending
To register for the tournament:
Click on the "Start Registration" button above to go to the Member Resources page on the Odyssey of the Mind website
Scroll down to the"Member Area & Team Portal Login" area
Sign in with your membership number and zip code
Click on the "Tournament Registration" link
Follow the instructions to register your team
One difference from previous years is that you will not receive an automatic email confirmation of your registration. Therefore, after registering your team, in order to pay the registration fee using a credit card, follow steps 1-4 above and click on the "Pay Now" button next to your team's registration. If you'd prefer to pay by check, please contact Randy Burton or Lexie Groner to make arrangements.
If you have any questions regarding the registration process, please contact Randy Burton or Lexie Groner.
Team-provided judges and volunteers, please register using the links below:
Hey OMers!
What do you call a document that keeps track of your Odyssey goals, meetings, gives you tips and general direction, and is the one place that holds all of your team's information? "The Odyssey Passport"!
The Odyssey Passport was designed to help both novice and seasoned coaches guide their teams through an Odyssey of the Mind season from the first meeting to competition. This detailed passport is an interactive, structured guide that will support you in keeping track of your team meetings, goals, objectives, deadlines, and more. Log into Members Area to get your copy of this wonderful new resource!
Please note that this Passport does not replace the Program Guide and it is not the ONLY way to solve a Long-Term Problem. No matter how closely you follow it, it is your Odyssey!
The 2023-2024 Program Guide is now available.
Download PDF version
Go to the Online Version of the Program Guide