Registration for the 2021 Odyssey of the Mind World Finals, Virtual and In-Person, will open on April 8th, 2021 at 3pm EDT.
2021 Virtual World Finals
Registration will open April 8th, 2021
Final team submission deadline will be April 30th, 2021.
Registration Fee: $190 per team
2021 In-Person World Finals
Registration will open April 8th, 2021
Final registration deadline is May 5th, 2021
Competition Dates: June 11 & 12, 2021
Registration Fee: $1090 per team
Teams are NOT limited to competing in one tournament or the other and MAY participate in BOTH virtual and in-person World Finals if they qualify to advance to World Finals by the rules of their State Association.
Recently, NCOM hosted a coaches webinar focusing on the NCOM Virtual Tournament. To view the recording of this webinar, please click the button below (or the graphic above).
View Webinar Recording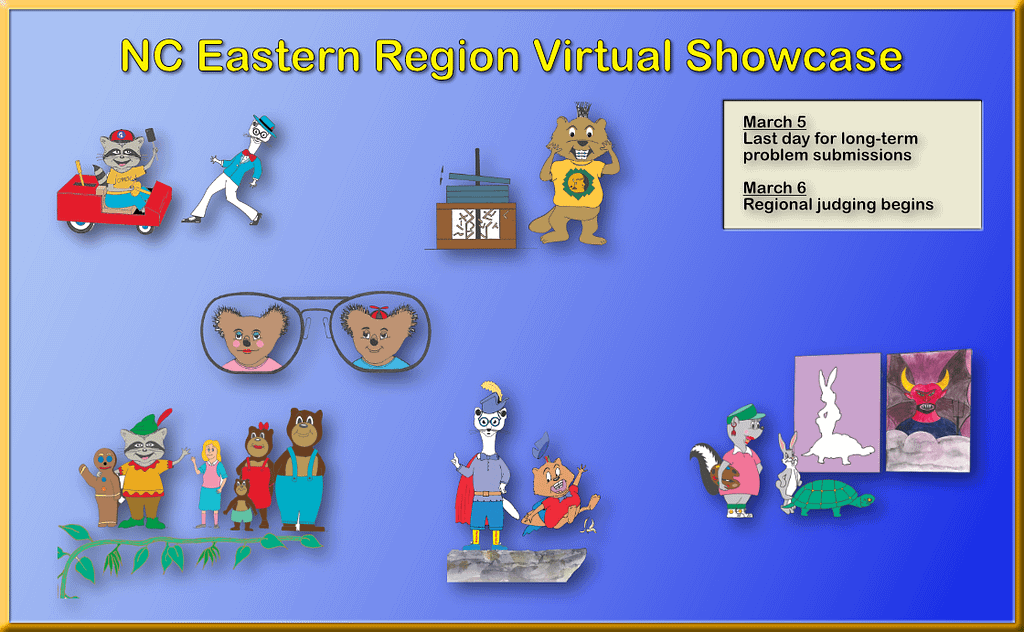 While we will still be having two NCOM tournaments, this year's regional level competitions will be presented as more of a "showcase" than a tournament. As usual, teams will submit their Long Term solutions and paperwork, compete in Spontaneous, and receive scores from experienced judges. They will also receive their raw long term and spontaneous scores as well as sticky notes from the judges and penalties if applicable. However, regional competitions will not have an awards ceremony as usual.
All teams this year will advance to the state tournament in April to compete for trophies/medals and the opportunity to advance to the 2021 Virtual World Finals.
The regional showcase format for this year is organized so that all teams competing virtually for the first time may present their solutions and skills risk-free, and have the opportunity to get feedback from judges before the competitive state-level tournament!
Practice spontaneous problems have been made available by the global Odyssey of the Mind organization as well as by NC's Central Region. Here are instructions for accessing them:
Odyssey of the Mind Practice Spontaneous Problems
From the Odyssey of the Mind HQ's Facebook page:
Hey OMers! Spontaneous practice problems are available in the Team Members Area (login using the Team Login, not the Member Login)! There are four practice problems to help your team experience Spontaneous in an online format. These practice problems are included with your membership.
Additionally, a Spontaneous Practice Package is available for purchase in the Odyssey Shop Support Materials. This package includes 10 practice problems that will provide examples of the different formats your team might encounter in an online competition. These provide additional opportunities to experience the online spontaneous competition to better prepare you for the actual competition.
NCOM Virtual Spontaneous Practice (presented by the Central Region)
From NCOM:
These pactice problems are for you to continue practicing spontaneous. We will update the first two on a weekly basis.
Central Region Virtual Spontaneous Problems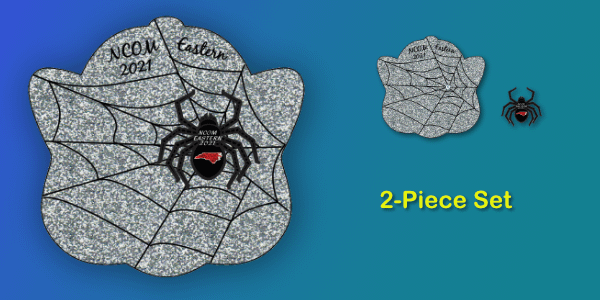 The 2021 NCOM Eastern Region pin is now available for sale at the NCOM Store! The pin is a 2-piece set consisting of a spider web in the shape of OMer's face and a separate small spider pin that can be inserted into the center of the web.
The pin will only be sold as a set with a price of $6.50 (plus $5 shipping per order).
Head over to the NCOM Store and check it out along with the full slate of 2021 NCOM State pins!
The North Carolina Odyssey of the Mind store is open!
Looking for a great gift for your OMERs? Our 2020-2021 trading pin collection is available as a complete set of 19 pins or you can purchase them individually. You know you need another llama or a Patronus set in your life this year.
Instead of another state t-shirt, NCOM has gotten permission from Odyssey of the Mind HQ to produce this year's problem icons on face masks. They are current, stylish, comfortable, adjustable, washable, and highly effective. Available in both adult and child sizes, these face masks would make excellent holiday gifts whether your OMER is going roaming, entering virtual reality, climbing a beanstalk, avoiding traps, wielding sock-induced superpower, or discovering that animals are people too!
A portion of the face mask sales will go to both NC and COU scholarship funds. What a great way to publicize Odyssey of the Mind and support our Odyssey family around the world.