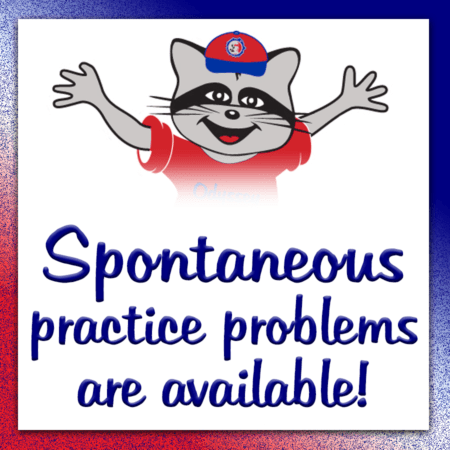 Practice spontaneous problems have been made available by the global Odyssey of the Mind organization as well as by NC's Central Region. Here are instructions for accessing them:
Odyssey of the Mind Practice Spontaneous Problems
From the Odyssey of the Mind HQ's Facebook page:
Hey OMers! Spontaneous practice problems are available in the Team Members Area (login using the Team Login, not the Member Login)! There are four practice problems to help your team experience Spontaneous in an online format. These practice problems are included with your membership.
Additionally, a Spontaneous Practice Package is available for purchase in the Odyssey Shop Support Materials. This package includes 10 practice problems that will provide examples of the different formats your team might encounter in an online competition. These provide additional opportunities to experience the online spontaneous competition to better prepare you for the actual competition.
NCOM Virtual Spontaneous Practice (presented by the Central Region)
From NCOM:
These pactice problems are for you to continue practicing spontaneous. We will update the first two on a weekly basis.
Central Region Virtual Spontaneous Problems