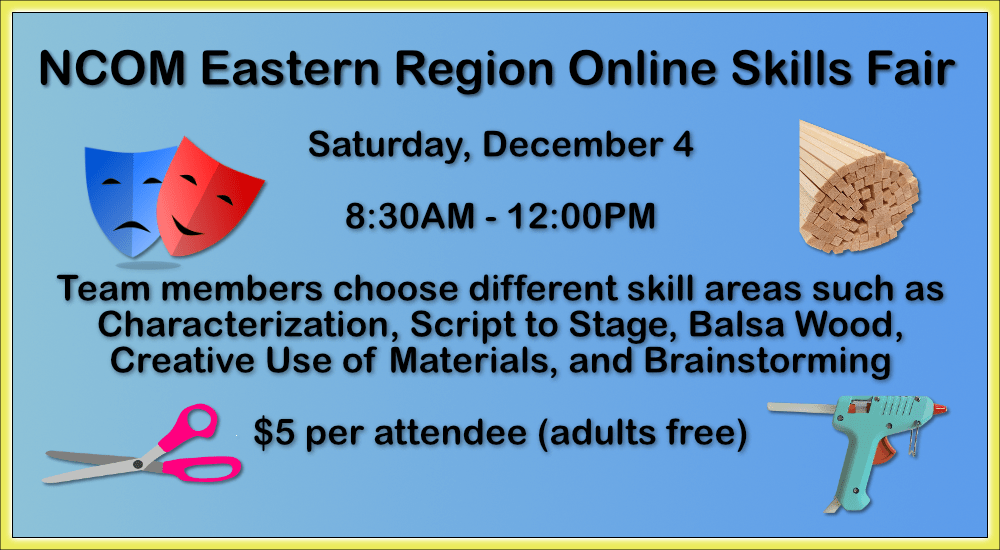 Registration is now closed.
Please contact Randy Burton at ncomepc1@gmail.org with any questions.
Schedule:
| | |
| --- | --- |
| 8:30-9:15 | Zoom Session 1 |
| 9:25-10:10 | Zoom Session 2 |
| 10:20-11:05 | Zoom Session 3 |
| 11:15-12:00 | Zoom Session 4 |
Sessions Offered:
From Script to Stage
Characterization
Creative Use of Materials
Brainstorming
Balsa Wood
Notes:
During registration, you will prioritize the session topics for each team member attending
When you receive your schedule for the day, you will receive links to the Zoom meeting for each session. Each session has its own Zoom meeting, and unique Zoom meeting link
The sessions will include hands-on activities. We recommend the team members attend via a device with a large screen (not a cell phone). It may be difficult for team members to see the instructor demonstrating activities on a small screen.
With some of the hands-on activities, the team members may need assistance from an adult. Having an adult present will help them get the most out of the sessions.
Once you have registered, you will be contacted via email with more details on the fair, and with an individual schedule for each of your team members for the day.
Each team member participating will need to supply their own materials that they will use in the sessions. In some cases, to participate in a session, team members will need to purchase items in advance.